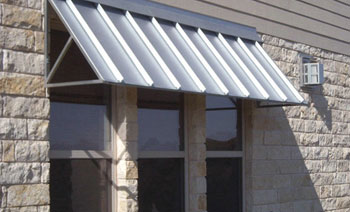 Santa Paula Awning Co. offers complete installation and maintenance of energy-efficient windows and entry doors including patio doors. We can replace or install new vinyl siding, aluminum siding or steel siding, soffits and fascias, aluminum patio covers and carports for any size project. We can custom build and install storm doors and windows for both residential and commercial properties. Plus, we have a complete line of repair parts.
Commercial Store Front & Entrances
As a full line dealer of Amarlite, EFCO, Kawneer and Tubelite commercial products, SPAC can provide all of your commercial storefront, curtain wall and entrance needs.
Full Line of Glass Products
We offer a full line of tempered and annealed glass products manufactured by PPG, AGC, Guardian, Pilkington, Walker, Visteon and TGP FireGlass. Insulated glass units are custom ordered for any need you may have. Plexiglas, in different thicknesses, can be cut to your order and specifications. Laminated glass is in stock for your safety requirements. A large inventory of different glass products assures your needs can be met. Auto glass repairs are done in our repair shop.
Custom Mirrors
By stocking sheets of mirror products, both in 1/8" and ¼", we can custom cut any mirror needs you may have. Grinding and hole drilling is provided in house. Beveled and framed mirrors are provided from our many suppliers.
New Construction & Replacement Windows & Entry Doors
Vinyl, aluminum and aluminum clad windows for any application you may desire. Whether you are building a new home or remodeling your current residence, we have the quality windows you will need. We are authorized dealers for Alliance, Andersen, Quaker, Midwest and Win-Vent windows. Custom sizes are available for any application. Therma-Tru fiberglass and steel doors are available in a variety of configurations and features.
Vinyl, Aluminum and Steel Siding
Many choices of siding products are offered with CertainTeed being our main line of quality siding and accessories, all available in many color choices. You can purchase the material only or a complete project with installation is available to the customer.
Soffit & Fascia
Aluminum soffit and fascia is available in a wide variety of colors.
Patio Doors
We offer either aluminum or vinyl patio doors for your new home or that remodel you have been planning. Custom sizes are available.
Custom Built Storm Windows & Doors
Extrusions are in stock to build your custom storm windows and storm doors. As a Larson storm door dealer, we stock a variety of styles to fit your décor.
Aluminum Awnings
Both functional and stylish, aluminum awnings are custom built to your specific needs. You have a choice of ventilated or solid top awnings in a variety of colors.
Aluminum Patio Covers & Carports
Make that deck or patio useful for all kinds of weather. Either to give you some shade or shelter from the rain, our patio covers and carports are just what you need.
Complete Line of Repair Parts
We offer a complete line of repair parts for everything that we sell and many other products. Looking for that broken or odd part, give us a try. With the support of our many distributors, we can offer many alternatives.
Custom Repair Shop
We have a fully stocked repair and fabrication shop for repair of just about any type of glass, window, door, agriculture, automotive or other various projects you may encounter. Broken glass replaced, screens repaired, damaged frames repaired or replaced, etc., whatever the issue, come talk to us, we may have the answer!
Complete Installation & Maintenance of all products offered
If we sell it, we can install it! Our fully trained staff can install any of the many products we offer. We offer free estimates and quotes on any project you may have. Our employees pride themselves on their ability to give you a high quality, complete project and are held to a high standard of customer service. No project is complete until you, the customer, is totally satisfied.